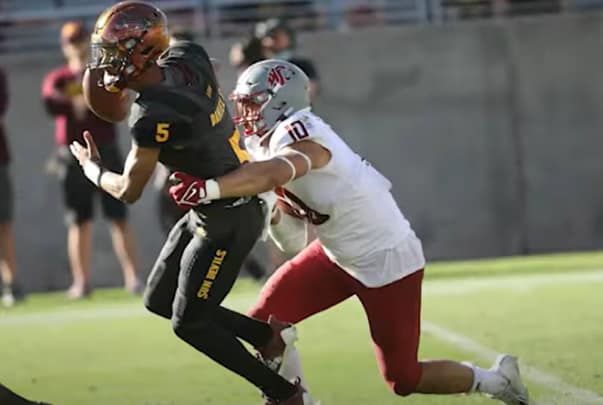 Ron Stone, Washington State Cougars.
Washington State Cougars opened up a 25 point lead in the third quarter, then held off a late rally en route to a 31-20 win over Arizona. Here are our 5 big takeaways.
The Washington State Cougars squared off against Arizona in the Jayden de Laura Bowl. Wazzu took advantage of four Arizona turnovers as they got out to an early lead.
Arizona scored a pair of late touchdowns but ultimately fell short 31-20. Here are our top takeaways.
Steady Cam
Once again, Washington State quarterback Cameron Ward avoided giving the ball away. Wazzu's only turnover was a fumble by Donovan Ollie.
Ward completed 25 of 36 passes for 193 yards and a touchdown. He was also the team's leading rusher with 59 yards and a touchdown on 8 runs.
Wrong Way JdL
You can take the QB out of Pullman, but you can't take Pullman out of the QB. Even though this game was played at Arizona Stadium, Jayden de Laura had the Palouse on his mind.
He threw four passes to players in crimson and white, including a pair of interceptions to Sam Lockett. There was also a pick-six by Derrick Langford.
Making the Stops
Try as they might, Arizona couldn't get any momentum in the rushing game. The Wildcats only picked up 84 rushing yards.
In his postgame presser, Washington State Head Coach Jake Dickert praised his defense. The unit was able to get off the field when they had to. Arizona converted only 2 of 13 third down opportunities.
Secondary Problems
It wasn't all sunshine and roses for the defense.
Despite pulling down four interceptions, the Washington State Cougars' defensive backs didn't have a great game. De Laura threw for 347 yards.
They had a particularly difficult time containing receiver Dorian Singer. The sophomore caught 9 balls for 176 yards and a touchdown.
The Cougs' D-Backs need to buckle down. In next week's Apple Cup Game, they face the Pac-12's most prolific passing attack.
Bell Ringer
He's back. Wide receiver Renard Bell played his first contest since injuring his arm against USC in Game 6.
Bell caught 7 passes against Arizona. They were all for short yardage, as he gained only 33 yards, 13 of which came on one play. But having him back is good for Ward; he's come to trust the senior receiver.
Next week is the Apple Cup!